Our retail storefront is located in Naperville. Whether it is a business card, poster, invitation, calendar, holiday or greeting card, promotional piece, or more, our sales associates are happy to help.
BloomingColorCards.com
Choose from thousands of templates to create your very own customized cards for all occasions. From birth announcements to party invitations, posters and calendars, all products are printed and shipped as soon as 48 hours later. Click here to bring your occasions to life by printing in bloom.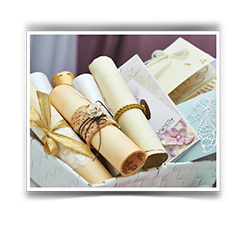 Wedding Invitations
Let Blooming Color bring your wedding to life by creating an invitation at our online store, or making an appointment at one of our retail storefront locations. One of our retail storefront associates can help you create the perfect invitation. Click here to browse our extensive selection of invitations in contemporary and traditional styles.
Promotional Products
Connect your brand with your audience using one of our many promotional products. Plus, the more premium items also make great employee incentives and rewards. Click here to browse our Promotional Catalog's selection of low, moderate and high-end merchandise.
BLOOMING COLOR IN NAPERVILLE
1577 N Naperville/Wheaton Rd.
Naperville, IL 60563-1556
---
Phone: 630-369-1360
Fax: 630-369-2849
naperville@bloomingcolor.com