For on-demand digital printing of exceptional quality, our world-class HP Indigo Digital Offset Presses offer you the ability to turn any idea into reality. Our HP Indigo 10000 offers a large 20.9" x 29.5" press sheet, which allows for stunning prints larger than any other digital device. We are also home to HP Indigo 7800 and 7500 Digital Offset Presses, all three of which offer both CMYK and Pantone colors, giving your on-demand printed projects the best color representation in the marketplace.
With HP Indigo, we believe in a world where extraordinary should be the norm – a world where something special and distinct is not exceptionally costly and rare, but is instead the goal of every single print job. It is a world where our clients can turn unique and inspiring ideas into profit, which makes every print piece infinitely more valuable.
From unique substrates like vinyl and cork, to special effects like white, fluorescent pink and clear inks, the HP Indigo suite of digital offset presses offers you unlimited capability to bring your ideas to life. Click here for a complete list of our equipment.
Variable Data Printing
is an automated process that combines images and data to personalize each direct mail piece with completely custom information. This level of customization increases the likelihood that your audience will respond to your message.
HP Indigo Electroink
offers the widest possible color gamut for accurate CMYK color conversion. PMS inks can also be custom mixed, which is the only on-press color solution in digital printing.
Unique Substrates
Our vast assortment of unique substrates opens a world of printing possibilities. Our HP Indigo Digital Offset Presses can print on more than 2,800 substrates including dark, transparent, synthetic, metallic, and recycled papers as well as paperboard for folded cartons.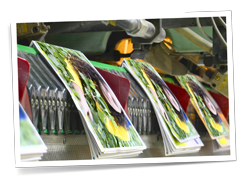 Full Service Bindery and Finishing
An in-house bindery department is critical to ensure quality of product and on-time delivery. For that reason, we boast one of the largest in-house bindery departments in the industry. Our bindery includes multiple binding options, folding, scoring, gluing, tabbing, drilling, laminating, and virtually anything else you can imagine.
Digitally Printed Special Effects
Digitally printed special effects such as white ink, fluorescent pink ink, clear raised ink, embossing and other effects can provide a unique and exciting appeal to your materials.
The Latest in Digital Print